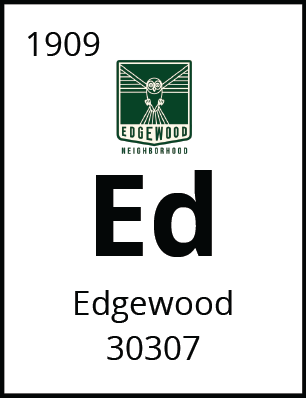 A quiet residential neighborhood near retail and entertainment, these are the Elements of Edgewood.

EDGEWOOD PROPERTY TYPE
Edgewood includes many Craftsman bungalows built originally for blue collar workers in the area. Edgewood also has a mix of newer apartment buildings, townhomes and single-family residences.

SCHOOLS
Toomer Elementary
Martin Luther King Jr. Middle
Maynard Jackson High School

LANDMARKS & FAVORITES
Edgewood Retail District
Little Five Points is nearby

Sorry we are experiencing system issues. Please try again.

Edgewood, adjacent to Kirkwood, Little Five Points, and Reynoldstown, is a vibrant Eastside neighborhood approximately 3 miles from Downtown Atlanta. In the neighborhood, residents and tourists enjoy the performing arts center and the creative youth development initiative. In the near future, new growth near the existing MARTA station promises to make Edgewood even more of a destination. Edgewood became its own town in 1909 and was originally developed for workers during the Reconstruction of Atlanta in the 1870s. Architecture in Edgewood is primarily craftsman bungalows as opposed to the Victorian architecture found in nearby Kirkwood and Candler Park neighborhoods. With so many activities and festivals held in the city, residents never have to go far for entertainment and often find that it comes to them. The Edgewood Retail district includes Kroger, Lowe's, Best Buy, Target among many others.