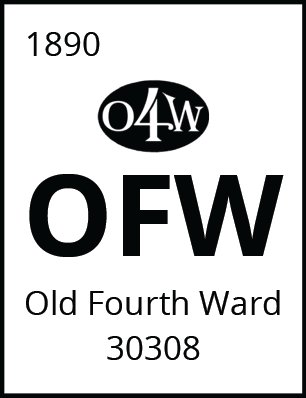 Artsy, hipster, and eclectic, these are the Elements of Old Fourth

OLD FOURTH WARD PROPERTY TYPE
The architecture in OFW is varied with Victorian-era houses, Craftsman Bungalows, and modern homes. The largest concentration of single-family homes can be found south of Freedom Parkway, especially south of Irwin Street and many new multi-family developments have been built bordering the park.

SCHOOLS
Hope Hill Elementary
David T. Howard Middle
Midtown High School

LANDMARKS & FAVORITES
Atlanta Beltline Eastside Trail
Boyhood Home of Martin Luther King Jr.
Historic Fourth Ward Park
Ponce City Market

Old Fourth Ward, affectionately known as O4W is an eclectic, artsy and hip neighborhood east of downtown and just steps away from the Atlanta Beltline and Freedom Parkway. It is home to Old Fourth Distillery, the first distillery opened after prohibition. It includes several parks including Old Fourth Ward Park, a 17-acre park with a two-acre lake, an outdoor theater, and a skate park connected to the Eastside Beltline trail. Much of OFW ward was devastated by the Great Atlanta Fire of 1917 with many of the grand homes on Boulevard destroyed and replaced by larger apartment complexes. Old Fourth Ward is home to the historic boyhood home of Martin Luther King Jr. OFW is home to many great restaurants and venues including amano, Chrome Coffee, and Highland Bakery. Edgewood Avenue is home to restaurants such as Staplehouse, Noni's, and the Slutty Vegan.