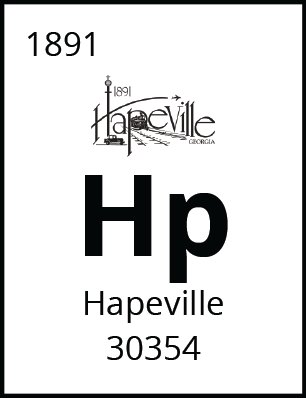 Hapeville is quickly becoming the hidden gem for those seeking a historic neighborhood convenient to downtown Atlanta. Craftsman Architecture is pervasive in the Hapeville community. This new residential development has led to a revived historic downtown. Grab a cup at coffee at Drip or a pastry at Buttersweet, take a walk at Jess Lucas Park or visit the old train depot or the Delta Flight Museum. Hapeville has a great selection of restaurants and local staples such as the Dwarf House – the first Chick-fil-A restaurant, the first Johnny's Pizza, Louisiana Bistreaux, One Flew South, The Corner Tavern and Pit Boss BBQ. Hapeville has been discovered by metro Atlanta's arts community, and the beginnings of an artist colony have taken shape with the formation of the Hapeville Arts Alliance.

Artsy, with great restaurants and global businesses, these are the Elements of Hapeville.

HAPEVILLE PROPERTY TYPE
There has been a great deal of new residential construction, including single-family homes, townhomes, and upscale apartments. The architectural trend of Hapeville encourages a dynamic mix of traditional styles. The Craftsman Bungalow is a common architectural style.

SCHOOLS
Hapeville Elementary
Paul D. West Middle
Tri Cities High School

LANDMARKS & FAVORITES
Delta Flight Museum
Doll's Head Trail
Hapeville Depot Museum and Visitor
Porsche Experience

Sorry we are experiencing system issues. Please try again.

The Village of Hapeville was chartered on September 16, 1891, by Dr. Samuel Hape, Hapeville's first Mayor. Dr. Hape was a native of Middlebury, Maryland who came to Atlanta prior to the Civil War. In 1929, the City of Atlanta purchased the landing field belonging to Asa G. Candler Jr. and founded its municipal airport, now known as the Hartsfield-Jackson International Airport. Many global businesses have made their corporate headquarters in Hapeville including Delta Air Lines and Porsche North America located at the site of the old Ford Assembly Plant.