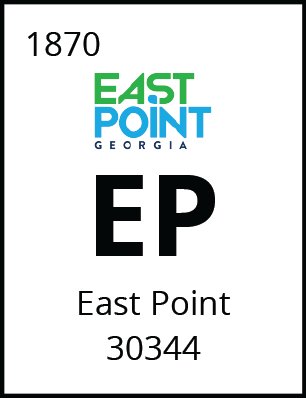 The name originated because of its location as the terminus of the Atlanta West Point Railway in the east. East Point has lodging, dining, outdoor recreation, and shopping with convenient access to Atlanta. Locals love Thumbs Up, Oz Pizza, the Kupcakerie, and Lov'N it Live with its vegan options. East Point is also home to the production plant of Arden's Garden. The Dick Lane Velodrome is a 1/5 mile and 36° banked concrete bike racing track set in Sumner Park in a suburban part of beautiful historic East Point. In addition, the new Georgia Sports Park boasts 100 acres of green space.

A transportation hub with restaurants and recreation, these are the Elements of East Point.

EAST POINT PROPERTY POINT
The tudor style of home is common in East Point.

SCHOOLS
Parklane Elementary
Paul D West Middle
Tri Cities High School

LANDMARKS & FAVORITE
Dick Lane Velodrome
Georgia Sports Park
Hartsfield Jackson International Airport
Jefferson Park
Sumner Park

Sorry we are experiencing system issues. Please try again.

East Point is a city southwest of Atlanta and minutes from Hartsfield-Jackson Atlanta International Airport. East Point serves as the airport's second MARTA stop and lies at the apex of three main interstates, I-75, I-85, and I-285. In the heart of historic downtown East Point, the center green space is the site of seasonal festivals, annual gatherings, and farmers markets. Historic downtown East Point consists of restaurants, a library, local churches, and a transit station.